greyTs livingroom
03.02. 2023, 08h00
Willkommen Gast
Zusammenfassung
Autor: Oval 5
« am: 09.04. 2018, 02h10 »
Zitat von: [youtube]https://www.youtube.com/watch?v=RBh5NvsL3c0[/youtube]



.

Autor: Oval 5
« am: 23.03. 2018, 14h13 »
In Wales/UK werden Greyhounds jetzt nicht mehr aus finanziellen
Erwägungen eingeschläfert.
Die Tierschützer sind eingesprungen um das künftig zu verhindern.
Greyhound Rescue Wales hat sich bereit erklärt, verletzte Greyhounds
aufzunehmen und über den Last Hope Fund die Behandlungen
finanziell abzudecken.

zur Diskussion gibt es das als offenes Thema

[1]

Eine super Sache wie ich finde. Einzig denke ich noch immer, daß es Aufgabe der
Buchmacher ist, die "Collateralschäden" ihres Gewinns selber zu bezahlen und
auch diejenigen, die sich darum kümmern. Einen verletzten Hund zu pflegen ist
viel Arbeit. Auch die sollte in einer Industrie BEZAHLT werden. Nicht unter dem
Mindestlohn!
Autor: Oval 5
« am: 14.03. 2018, 16h34 »
Reaktionen
Radio Four views on GBGB injury/retirement data
Zitat von: Greyhound Star
Greyhound Trust views on GBGB injury/retirement data

Their statement reads:

With the release of the published data for injury and retirement of racing greyhounds, Greyhound Trust Chief Executive, Lisa Morris-Tomkins has announced the commitment of the charity to work with the GBGB on addressing the current levels of euthanasia within greyhound racing. Mrs Morris-Tomkins said:

"The number of racing greyhounds who never have the opportunity to experience a loving home when their racing career is over is unacceptable, and the base line injury and retirement figures published must be improved; it is unacceptable that any greyhound suitable for homing is euthanised. This is why the Greyhound Trust have committed our expertise and experience to work with the GBGB on two key welfare projects: a behavioural assessment project and an injury recovery scheme, which will maximise the opportunities for greyhounds to transition to a family pet."

Close to 1000 Greyhound Trust volunteers work tirelessly to home retired racing greyhounds and we will continue to strive for a day when all racing greyhounds retire to a loving home where they are treated with compassion and kindness. Pressure on our capacity and our resources mean that this day is someway away, however if more funds were dedicated to the Greyhound Trust then this day would be a step closer.

The Greyhound Trust is keen to see all bookmakers pay the voluntary greyhound levy, so that more funds can be passed to the Greyhound Trust, and more retired racing greyhounds can find the home they deserve after racing.

The Trust remains committed to working with the greyhound industry to improve the lives of racing and retired greyhounds, and welcomes the transparency for the public that the GBGB publication of injury and retirement data brings. The Greyhound Trust is proud to have taken close to 70% of the 4536 greyhounds that were passed to organisations for homing in 2017. With more than 3000 greyhounds coming into our care for homing, we remain by far the largest and most influential greyhound charity in the UK, homing around 3800 greyhounds annually.

The Greyhound Trust will continue to play an active role in racing dog welfare, through the GBGB Welfare Committee, the All Party Parliamentary Group on Greyhounds, and the National and International Greyhound Forums. The Trust is also looking forward to working with the GBGB on the 'Greyhound Commitment'. Mrs Morris-Tomkins said:

"The GBGB 'Greyhound Commitment' pledges to continue to work collaboratively with the Greyhound Trust and we welcome all opportunities to further enhance the welfare of both retired and racing greyhounds. The financial contribution of funds pledged by the GBGB for a Greyhound Trust flagship homing centre is most welcomed and we look forward to delivering this exciting project once the total funds required have been raised"

By supporting the Greyhound Trust you are supporting the only national charity dedicated to finding homes for retired racing greyhounds.

Tia Rescue findet "keine Worte"
Exclusive: Shocking number of retired greyhounds being put down because no viable home for them
Autor: Oval 5
« am: 14.03. 2018, 15h44 »
So:
Die Statistik der 22 offiziellen Rennbahnen des UK: GBGB 2017 Injury / Retirement Data

Die Statistik zu den UK Vermittlungen 2017: GBGB Retirement Movements 2017
7404 Greyhounds sind 2017 aus dem
Rennbetrieb des GBGB ausgeschieden.
86,32% davon sind auf diversen Wegen
vermittelt worden.
13,68% sind gestorben oder wurden eingeschläfert -
das waren 2017 in Summe 1013 Greyhounds:

a) 333 oder 4,5% (aller 2017 ausgeschiedenen Greyhounds) eingeschläfert wegen schlechter Prognose der Heilung oder zu hoher Kosten für die Behandlung. (33% der Todesfälle 2017)
b) 22 Greyhounds wurden eingeschläfert, weil kein Zuhause gefunden werden konnte. Das sind knapp 0,3% (aller 2017 ausgeschiedenen Greyhounds) (2% der Todesfälle 2017)
c) 270 wurden eingeschläfert, weil sie für ungeeignet als Familienhund gehalten wurden - das sind 3,65% (aller 2017 ausgeschiedenen Greyhounds) (27% der Todesfälle 2017)
d) Dem plötzlichen Tod sind 55 Greyhounds erlegen, 0,74% (aller 2017 ausgeschiedenen Greyhounds) (5% der Todesfälle 2017)
e) 257 wurden auf der Rennbahn eingeschläfert um das Leiden verunglückter Greyhounds zu beenden. 3,47% (aller 2017 ausgeschiedenen Greyhounds) (25% der Todesfälle 2017)
f) 30 Greys wurden aus medizinischen oder andere Gründen eingeschläfert. 0,41% (aller 2017 ausgeschiedenen Greyhounds) (3% der Todesfälle 2017)
g) 38 Greys oder 0,38% (aller 2017 ausgeschiedenen Greyhounds) wurden wegen unheilbarer Krankheiten eingeschläfert. (3% der Todesfälle 2017)
h) Den natürlichen Tod sind in dem Zeitraum 18 Greys erlegen oder 0,24% (aller 2017 ausgeschiedenen Greyhounds) (2% der Todesfälle 2017)

Alle Zahlen oben stammen entweder direkt aus den verlinkten Daten des GBGB
oder sind daraus errechnet.
Klingt alles nach viel - ist es im Absoluten ja auch. Es sind einfach viele Hunde!
Vermutlich wäre eine entsprechende Statistik ExRacer Pet-Greyhounds deutlich
schlechter. Auch kein Wunder, schließlich sind die Hunde zum einen älter und
zum anderen die meistern Halter weniger professionell geschult.
Autor: Oval 5
« am: 14.03. 2018, 14h45 »
Der nächste Link zum Thema:
Zitat von: Greyhound Star, 14.3.2018



......It shows that 86% of ex-racers are re-homed, a figure that flies in the face of 'anti'
propaganda.

The remaining 14 per cent included all fatalities including racing accidents and death
relating to illness and natural causes.
.......
Die Statistik selber hab ich noch immer nicht aufgetrieben.. wird schon noch werden
Autor: Oval 5
« am: 14.03. 2018, 14h06 »
Zum ersten Mal in der Geschichte der Englischen Greyhound-Rennen
veröffentlicht der
GBGB (Great Britain Greyhound Board)
die Verletzungs-
statistiken. Der Geschäftsführer des GBGB, Mark Bird wird heute abend
(14.3.2018 ab 6pm/ab 19hoo - in der ersten Sendestunde hab ich gelesen)
im
RPGTV (Racing Post Greyhound TV)
dazu Stellung nehmen.
In der Muttersprache - ist ja klar
RPGTV
Für's erste gibt es dazu Artikel in der Racing Post:
GBGB managing director Mark Bird on RPGTV tonight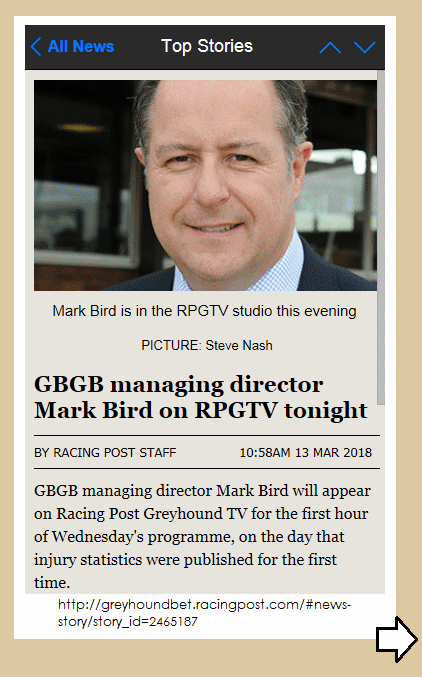 und
Jonathan Kay
Prevention always better than the cure with costly injuries
Mein Zeitplan ist so voll, daß ich noch nicht daran glaube, zu einer
Übersetzung zu kommen leider
edit Oval 5 um 20h19 - den Link zum Life TV geändert, weil das wieder der falsche war - ich bin leider grade erst dazu gekommen und also vermutlich wieder zu spät.. Mist - mal sehen...